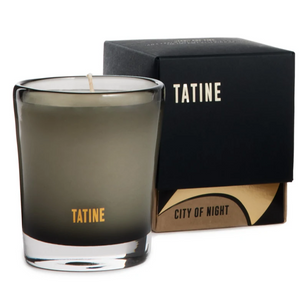 Tatine City of Night Candle
Regular price $49.00 Sale
FRAGRANCE NOTES 
An ode to the distinctive and mysterious spirit of Jim Morrison.
Ghostly notes of dark hinoki oil and charred vetiver blend with cypress and fir needle to create a deeply fragrant resin. Black pepper and evocative woody floral accords are finished with velvety leather and oaken whiskey. Totally seductive.
DETAILS
**All candles currently come in our expressive Limited Edition packaging for Spring 2022, as shown**
Natural Wax Candle in Smoke Grey Mouth Blown Glassware

Not a trace of petroleum-derived paraffin is used in our wax formulation.

Composed of an exquisite blend of bespoke perfume oils and essential oils, which are phthalate-free and crafted with cotton wicking. 

Poured into artisan mouth-blown glassware exclusive to Tatine, crafted to be drink safe. Gently hand wash or place the glass in the dishwasher for use at your next celebration and let it live uniquely on.

Skilled papermakers craft this paper stock using 100% certified reusable energy. The design is intentionally constructed without adhesives and is created using 30% reimagined post-consumer materials artfully produced using craft manufacturing and repulpable foils.

Flatten the beautiful origami-style box, as the scent of each candle leaves its mark and can be slipped into a drawer to emit a delicate fragrance.
CLASSIC 8 OUNCE
up to 50 hours of a delicate fragrant atmosphere when burned properly.