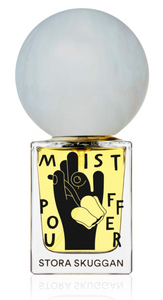 Stora Skuggan - Mistpouffer Eau de Parfum
Regular price $168.00 Sale
"Like trying to catch smoke with your bare hands" - Bem, Harry Potter and the Prisoner of Azkaban

A Mistpouffer is an unexplained natural sound, a sonic boom like distant cannon fire that seems to come out of the fog over large lakes or rivers. It has been recorded all over the world throughout history, and is the source of many legends. In Japan the phenomenon is called uminari meaning "cries from the sea". In Connecticut, the Machimoodus state park gets its name from the native american name for the area, which means "place of bad noises".
Despite scientific attempts to understand the sounds (that can still be heard to this day), its source has still not been identified. Possible explanations include solar winds resonating in the atmosphere, underground earthquakes or gas bubbles being released from the deep. Others believe it is the work of extraterrestrial or subsurface civilisations. 
Early settlers in North America were told by the native Haudenosaunee Iroquois that the booms were the sound of the Great Spirit continuing his work of shaping the earth.
Rendering this mystical water thunder as a fragrance was as elusive as the sound itself. We spent four years and hundreds of iterations before finding the right balance between being distinctive and inexplainable. Foggy but not aquatic, smoky but not heavy. Natural, but in equal parts supernatural.
SCENT NOTES: immortelle, bergamot, fig leaf, pine, ozone, smoke, vetiver, malt sugar, cypriol
CONCENTRATION: Eau de Parfum
RELEASED: 2019
COUNTRY: Sweden
PERFUMER: Tomas Hempel
30mL Eau de Parfum