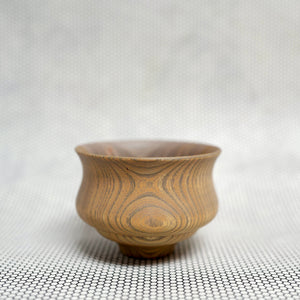 Sinafu Deco Bowl Small
Regular price $65.00 Sale
A hand-turned and lacquered Japanese bowl made from prized Zelkova wood.

Made in Yamanaka Prefecture, where woodworking techniques have sustained the craftsman population for centuries. These handmade wooden bowls are made from Japanese Zelkova wood, which is prized in Japan for building traditional Tansu furniture and Taiko drums. 
With its graceful curves and wood-grain aesthetic, the Sinafu Deco Bowl from Gato is a great addition to a collection of incredibly lightweight. Yet it is substantial enough to hold a favorite item for display. The Deco Bowl comes in a dark, smoky grey that goes well with a variety of design styles and is available in three sizes.
Materials: Zelkova Wood
Dimensions: Height: 2.3" Diameter: 3.15"
Care: Hand wash with mild soap, then dry immediately and thoroughly. Use a clean cloth to remove any dust from the exterior, wiping gently. Not microwave or dishwasher safe.
Yamanaka, Japan