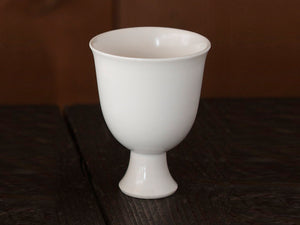 SAKE Vessel with Stem HOSOMI
Regular price $19.50 Sale
JICON introduces white porcelain sake vessels and a bold pitcher designed by OJI Masanori.
The footed sake vessels are designed to be enjoyable for all times and places.
Also, they are designed so that one can appreciate drinking sake even more. Nowadays, many people in the world enjoy drinking Japanese sake. Just as there is a wide variety of wine glasses to enjoy all sorts of wine, these are sake vessels to enjoy savoring good sake.
Since JICON aims to blend Japanese and Western styles, these Japanese vessels are inspired by European goblets as well as tall Persian goblets.
There is a real charm in the act of serving each other when drinking sake. The pitcher is designed to allow to serve and be served easily as you don't have to change its position because it has two spouts located at opposite sides. Also its rhomboid shape allows it to easily be gripped by hand.
We hope you enjoy a good sake wherever you are with these sake vessels and pitcher.

DIMENSIONS
dia 2.5" x h 2.8"