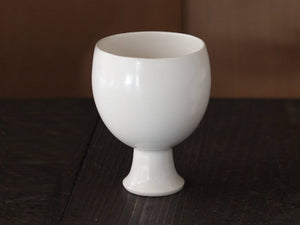 Sake Vessel with Stem Subomi
Regular price $19.50 Sale
JICON is a porcelain brand launched originally by Touetsugama kiln together with a Japanese designer, OJI Masanori.
The founder of the JICON brand, IMAMURA Hajime, later in 2014 became independent as IMAMURA Porcelain.
IMAMURA Porcelain makes porcelains for daily life with their traditional white porcelain techniques using Amakusa Touseki (porcelain stone).
The brand name means "porcelain (JI) in modern times (CON)." In the Buddhist words, JICON means "seize the day." It also denotes "porcelain (JI) created by the house of IMAMURA" of the Touetsugama kiln, founded 350 years ago. (Note that "IMA" means "modern times" in Japanese and can be paraphrased as "CON.")
The Touetsugama kiln originated in Mikawachi of Sasebo City in Nagasaki prefecture as a house kiln under the patronage of the Hirado clan. The kiln was redeployed to Arita in Saga prefecture by IMAMURA Shikao XII for its expansion and is currently succeeded by IMAMURA Kenichi XIV.
2.3"dia x 2.8" H
Porcelain

Made in Japan