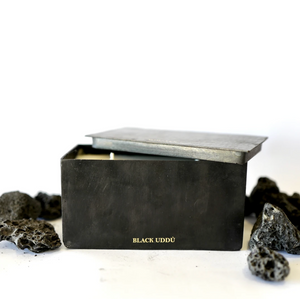 Mad et Len Black Block Horizontal - BLACK UDDÙ (Black Wax)
Regular price $175.00 Sale
Mad et Len candles come in a hand-hammered steel container with a black fumé finish and black paper packaging. All labels include date of production and product weight, and are signed by hand in the atelier.
Scent Notes: leather, floral bouquet, amber

Container Size: 7cm x 14cm x 7cm
Container: blackened hand-forged iron with gold leaf applique branding
Candle wax composition : soy wax, beeswax, cotton wick, perfume
TO USE: Burn only on a stable, heat-resistant surface. Keep away from drafts. Do not burn candles when the wax is less than 1/2 inch from the bottom. Do not touch or move the candle while burning or if the wax is hot. Never leave a candle burning unattended. Keep out of reach of children.