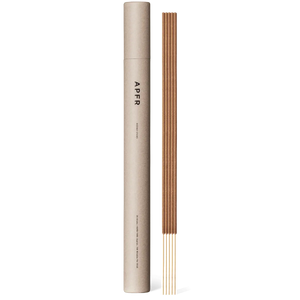 APFR Apotheke Fragrance Japanese Incense: MYSTIC VOYAGE
Regular price $26.00 Sale
MYSTIC VOYAGE
An oriental, spicy and woody scent inspired by the voyage during the Age of the Discovery. It's a blend of spices, flowers and trees that connects the elements of spice route, such as Malacca Islands which proved the world is round, the city in India known as "Golden Goa", Persia, the Red Sea, Madagascar etc.
NOTES OF Carnation, Clove, Nutmeg, Patchouli, Rose, Saffron, Vanilla, White Pepper, Woods.
BURN TIME
100+ minutes and scents a large space for hours.
25 sticks
13" long
Packaged in thick kraft tube with cork closure with letterpress printed label

"We take pride in our work, our craft and the quality of our products. We focus on the details of each product that are handmade with our love and care. We believe that our handmade products will take you to a special place and chill-out own space for 'your one & only one.' May your life be fulfilled with more imagination and happiness."
Bamboo stick incense made by hand in Japan.