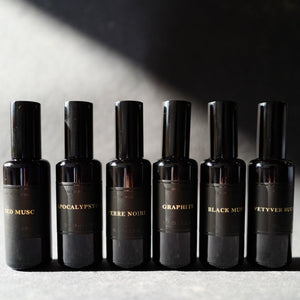 Mad et Len Eau de Parfum BLACK UDDU
Regular price $195.00 $155.00 Sale
"Sculpting the essence like a cubist mask,
curving and darkening a leathery floral base ,
polishing and faceting a raw amber to be reminiscent
of the sensual beauty of a primitive artefacts."
notes: leather, floral, amber
Black glass bottle that comes in a handmade metal protective case.
Handmade in France
Unisex

SIZE
50 mL
MAD et LEN
Scents of memories into beautifully handcrafted objects and experimental fragrances.
The nature surrounding the brand's atelier in the southern France Alps serves as the main source of inspiration for its perfume and candle lines. In this peaceful atmosphere of those rough and barely inhabited landscapes feature in the vessels capturing the sophisticated organic rawness of the surrounding environments.
Designers Sandra and Alexandre of MAD et LEN wander through their past experiences, recalling their trips all over the world, like the time they spent in Africa, New Caledonia, Fiji Islands and Malaysia, working and living as locals. Those precious souvenirs of life are the soul of MAD et LEN's approach to perfumery and design.
The finest seasonal ingredients, worked through a small-scale production, Sandra and Alexandre reviewed the traditional apothecary's craft and achieved the highest standard of quality and pureness while respecting the nature's rhythms.
Through its perfumes and objects, MAD et LEN aims to bring back the original taste of things, awaking our primal olfactory and tactile senses from the anesthetized sleep of daily life.