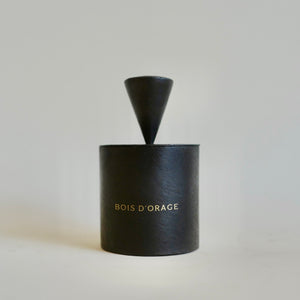 Mad et Len Lemaire Bougie BOIS D'ORAGE - Limited Edition
Regular price $145.00 Sale
BOIS D'ORAGE is the collaborative brain-child of MAD et LEN and French fashion house LEMAIRE. Christophe Lemaire & Sarah-Linh Tran's renowned label offers a distinctively Parisian style: chic, sophisticated, & eclectic. The clothing is designed for every day wear, with supple silhouettes & muted color palettes. Driftwood (BOIS D'ORAGE in French) is a mix of stormy & woody notes masterfully crafted by MAD et LEN - an expression of the shared vision of the two houses for class & refinement. Japanese hinoki, Haitian vetiver, Indonesian patchouli & other aromas make up the intense & luxurious fragrance.
SCENT NOTES: hinoki, Haitian vetiver, patchouli
Mad et Len candles are poured in a hand-hammered steel blackened iron vessels with a black fumé finish and black paper packaging. All labels include date of production and product weight, and are signed by hand in the atelier. Light one up, pour a glass of wine and enjoy the unique scents. The containers can be reused after the candles are done burning for anything your heart desires.  

SIZE
300g -10.58 oz

BURN TIME
45-50 Hours

COMPOSITION
soy wax, beeswax, cotton wick, perfume